Ambrosianischer Lobgesang
Product ID: MZ3 EM098
By Ernst Heinrich Gebhardt

Publisher:
Muzika
Arranger:
Van de Goot
Series:
Ensemble Music
Line Up:
Flexible Instrumentation
Duration:
3:00
Level: 2

Set & Score

This item is in stock
Instrumentation
1 Score
1 Piano
4 Part 1 in C treble clef
2 Part 1 in Bb treble clef
4 Part 2 in C treble clef
4 Part 2 in Bb treble clef
6 Part 3 in C treble clef
4 Part 3 in Bb treble clef
1 Part 3 in Eb treble clef
1 Part 3 in F treble clef
3 Part 4 in C alto clef
2 Part 4 in Bb low treble clef
1 Part 4 in Bb high treble clef
2 Part 4 in Eb treble clef
2 Part 4 in F treble clef
2 Part 5 in C bass clef
2 Part 5 in Bb bass clef
Reviews and rating
No review available, be the first to write one!


---
Composer


Ernst Heinrich Gebhardt (1832-1899)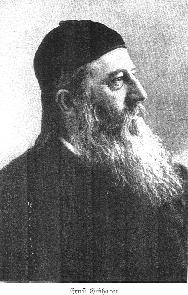 Ernst Heinrich Gebhardt (* 12. Juli 1832 in Ludwigsburg; † 9. Juni 1899 ebenda) war ein Liederdichter und Methodistenprediger. Gebhardt studierte nach dem Besuch des Gymnasiums zunächst Chemie und Pharmazie, dann Land- und Forstwirtschaft und wanderte dann 1851 mit Verwandten nach Chile aus, wo er auf einer Farm arbeitete. 1856 jedoch kehrte er nach Deutschland zurück. Nach einem Erweckungserlebnis trat er 1859 in das methodistische Predigersenminar von Bremen ein. In der Folge wirkte er als Wanderprediger in Deutschland und der Schweiz. 1879 zählte er zu den Mitbegründern des Christlichen Sängerbundes, dem er ab 1892 vorstand. 12 Jahre war er Redakteur des Sängergruß vom Christlichen Sängerbund, ab 1895 auch Schriftleiter der methodistischen Kirchenzeitung Der Evangelist und Der Kinderfreund. Er war eigentlich kein Wanderprediger, sondern wie damals in der methodistischen Kirche üblich ein Reiseprediger, das heißt er wurde alle 3 bis 4 Jahre an einen anderen Ort versetzt. Zum Methodismus kam er durch seine Braut und spätere Frau. Er heiratete mit 28 Jahren und zeugte neun Kinder. Für seine Stubenversammlungen und Evangelisationen hatte er ein kleines tragbares Harmonium dabei, das heute bei seiner Urenkelin in Bietigheim steht.
More info about the composer...