Totenfeier
Product ID: HM1 CS FO-1101
By Gustav Mahler

Publisher:
Highland Music
Arranger:
original
Series:
Classical Composers
Genre:
Romantic Era
Line Up:
Symphony Orchestra
Duration:
20:00
Level: 5-6

Set of parts

This item is in stock
About this item
Gustav Mahler completed this symphonic poem in 1888.
It would serve as a sketch for the first movement of the Second Symphony "Resurrection".
Instrumentation
3 Flutes (3rd doubling Piccolo)
2 Oboes
English Horn
2 Clarinets in Bb
Bass Clarinet in Bb
3 Bassoons
4 Hoorns in F
3 Trumpets in F*
3 Trombones
Tuba
Timpani
Percussion**
Harp
Strings
Reviews and rating
No review available, be the first to write one!


---
Composer


Gustav Mahler (1860-1911)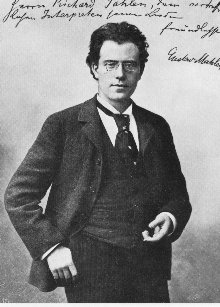 Gustav Mahler; 7 July 1860 – 18 May 1911) was a late-Romantic Austrian composer and one of the leading conductors of his generation. He was born in the village of Kalischt, Bohemia, in what was then Austria-Hungary. Kaliště u Humpolce is now in the Czech Republic. Then his family had moved not far to Jihlava where Mahler grew up. As a composer, he acted as a bridge between the 19th century Austro-German tradition and the modernism of the early 20th century. While in his lifetime his status as a conductor was established beyond question, his own music gained wide popularity only after periods of relative neglect which included a ban on its performance in much of Europe during the Nazi era. After 1945 the music was discovered and championed by a new generation of listeners; Mahler then became one of the most frequently performed and recorded of all composers, a position he has sustained into the 21st century.
More info about the composer...