Rhapsody on a theme by Paganini
Product ID: HM1 CC FO-1901
By Sergej Rachmaninoff

Publisher:
Highland Music
Series:
Classical Composers
Genre:
Romantique Era
Line Up:
Symphony Orchestra (Solo: Piano)
Level: 5+

Full Score

This item is in stock
Reviews and rating
No review available, be the first to write one!


---
Composer


Sergej Rachmaninoff (1873-1943)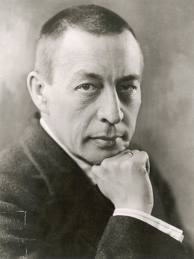 Sergei Vasilievich Rachmaninoff (Russian pronunciation: [sʲɪrˈɡʲej rɐxˈmanʲɪnəf]; 1 April 1873 – 28 March 1943) was a Russian composer, pianist, and conductor. Rachmaninoff is widely considered one of the finest pianists of his day and, as a composer, one of the last great representatives of Romanticism in Russian classical music. Early influences of Tchaikovsky, Rimsky-Korsakov, and other Russian composers gave way to a thoroughly personal idiom that included a pronounced lyricism, expressive breadth, structural ingenuity, and a tonal palette of rich, distinctive orchestral colors. The piano is featured prominently in Rachmaninoff's compositional output. He made a point of using his own skills as a performer to explore fully the expressive possibilities of the instrument. Even in his earliest works he revealed a sure grasp of idiomatic piano writing and a striking gift for melody.
More info about the composer...