Furiant
Product ID: WG3 TM1183
By Antonin Dvorák

Publisher:
Musikverlag Andrea Wiegand
Arranger:
Buchner
Series:
http://www.wiegandmusik.de/img/titel/minutehits1.gif
Genre:
Czech
Line Up:
Flex
Duration:
5:00
Level: 3

Set & Score

This item is in stock
About this item
This Furiant is one of the most famous and most popular dances. One is swept along by the rapid shifts from 2-metrical rhythm to 3-metrical rhythm. As part of a program or as an encore - this music will be a success for you!
This arrangement considers the capabilities of school and amateur orchestras. Due to the key being d-minor (compared to g-minor in the original), the playing is for the most parts limited to the 1st position. Only the first violin requires the 3rd position. The part of the viola can always be taken over by a 3rd violin. The coda is slightly abridged to make the score more playable. Strings can perform this arrangement alone. One can accommodate up to six different winds (C I / II, B-flat I / II, E-flat, C-bass) as well as timpani and triangle.
The new thing about this material is – when you buy the complete edition, which includes all string and wind parts, as well as the piano score, you acquire the right to copy as many voices as you need for your orchestra! The book includes each part on two facing pages (except for the piano part).
Songlist
(2)
1st theme
2nd theme
Instrumentation
Score,
Piano,
String-
Wind parts
Reviews and rating
No review available, be the first to write one!


---
Composer


Antonin Dvorák (1841-1904)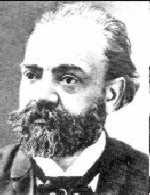 Antonín Leopold Dvořák (September 8, 1841 – May 1, 1904) was a Czech composer of late Romantic music, who employed the idioms of the folk music of Moravia and his native Bohemia. Dvořák's own style is sometimes called "romantic-classicist synthesis". His works include symphonic, choral and chamber music, concerti, operas and many of other orchestral and vocal-instrumental pieces. His best-known works include his New World Symphony, the Slavonic Dances, "American" String Quartet, the opera Rusalka, Cello Concerto in B minor and choral works Stabat Mater, Requiem, Op. 89 and Te Deum.
More info about the composer...