Violin Sonatas band 1
Buy this item (out of stock)
Product ID: SC4 UT50288
By Carl Philipp Emanuel Bach

Publisher:
Schott Edition
Arranger:
ViolinCembalo (Piano)
Series:
Wiener Urtext Edition
Genre:
Baroque
Line Up:
Violin & Piano (Solo: Unknown)
Level: 4-5

Set of parts

This item is out of stock
About this item
Carl Philipp Emanuel Bach's works for violin and harpsichord obbligato pervade his entire compositional oeuvre. The earliest works, like the Sonata in D minor still numbered BWV 1036, date back to the years of study with his father, yet show already a remarkable creative will of his own. The latest work, the fantasia 'C. P. E. Bachs Empfindungen' in F flat minor of 1787 is characterized by the composer's highly expressive late style. The new two-volume edition of Wiener Urtext Edition contains C. P. E. Bach's complete works for harpsichord (piano) obbligato and violin. Vol. 1 contains not only the sonatas Wq 71–74 and BWV 1036 but also the arrangements of the trios Wq 143–145 for violin and harpsichord, most of which are included in C. P. E. Bach's autographs, as well as a – previously ignored – early version of Wq 71 which, like BWV 1036, grants a rare insight into the early works of the composer. Vol. 2 contains the four major sonatas of 1763 which already fascinated Johannes Brahms. Brahms not only played them in concert, together with Joseph Hellmesberger, but also published two of these sonatas in 1864. This volume concludes with the two late works 'Arioso' and 'Fantasie' of 1781 and 1787 respectively. With these works, C. P. E. Bach bridged the gap between the late Baroque sonatas of his father and the early classical 'Klaviersonate mit begleitender Violine' [Piano Sonata with Accompanying Violin].
Songlist
(1)
Sonaten Wq 71-74
Instrumentation
Violin
Cembalo (Piano)
Reviews and rating
No review available, be the first to write one! ---
Composer


Carl Philipp Emanuel Bach (1714-1788)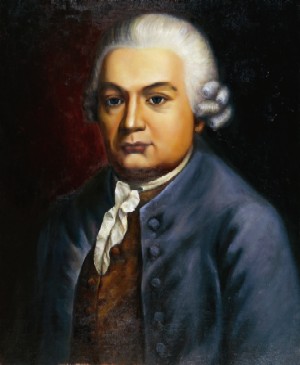 Carl Philipp Emanuel Bach (8 March 1714 – 14 December 1788) was a German Classical period musician and composer, the fifth child and second (surviving) son of Johann Sebastian Bach and Maria Barbara Bach. He was a crucial composer in the transition between the Baroque and Classical periods, and one of the founders of the Classical style, composing in the Rococo and Classical periods. His second name was given in honor of his godfather Georg Philipp Telemann, a friend of Emanuel's father.
More info about the composer...