Colonel Bogey March
Product ID: KM5 15095
By Kenneth Alford
published: 1914

Publisher:
Kendor Music
Arranger:
Dorff
Line Up:
Clarinet Quartet
Level: 3

Set & Score

This item is in stock
Reviews and rating
No review available, be the first to write one! ---
Composer


Kenneth Alford (1881-1945)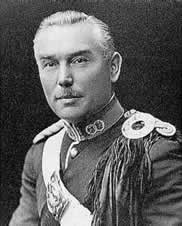 Frederick Joseph Ricketts (21 February 1881 – 15 May 1945) was a British composer of marches for band. Using the pen name Kenneth J. Alford, his marches are considered to be great examples of the art. Where military music is performed, whether the venue be the historic Horse Guards Parade in London, the forecourt of the futuristic Opera House in Sydney, Australia, or, less grandly, the parade ground of a run-of-the-mill military establishment, almost certainly a march from the pen of Kenneth J. Alford will be performed. His career as a Bandmaster in the British Army and latterly as a Director of Music in the Royal Marines is legendary, and conductors, musicians and the public, are one with conductor Sir Vivian Dunn in calling Ricketts "The British March King." Ricketts' frequent use of the saxophone contributed to its permanent inclusion in military bands.
More info about the composer...