Al Dente
Product ID: KM6 3191
By Frank Mantooth

Publisher:
Kendor Music
Series:
Jazz Summit Series
Genre:
Jazz - Swing
Line Up:
Jazz Ensemble
Duration:
6:45
Level: 5

Set & Score

This item is in stock
About this item
In Tooth's own words, this swinger is meant to give the bottom feeders - bari sax, bass trombone and bass - a chance to make more of a contribution than usual. The chart's mysterious sound comes from the combination of a meandering, snakelike melody over a bed of constantly moving fourths. Tenor and trumpet have solo honors, and doubles include altos on flutes, 1st Tenor on soprano, bari sax on bass clarinet, and all four trumpets on flugelhorn.
Reviews and rating
No review available, be the first to write one!


---
Composer


Frank Mantooth (1947- 2004)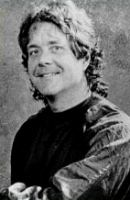 Frank Mantooth (April 11, 1947, Tulsa, Oklahoma - January 30, 2004, Garden City, Kansas) was an American jazz pianist and arranger. Mantooth attended University of North Texas College of Music, graduating in 1969, then played in and arranged for the Air Force Academy Falconaires from 1969 to 1973. He spent the rest of the 1970s living in Austria, where he published big band and small ensemble arrangements. After his return to the U.S. in 1980, Mantooth worked extensively as a pedagogue, arranger, and publisher in addition to performance. He taught at DePaul University and recorded with Phil Wilson, Ashley Alexander, and Kirsten Gustafson. He wrote music for Louie Bellson, Art Farmer, and Carla Helmbrecht among others. He died in 2004 from a heart attack, aged 56.
More info about the composer...