24 Piano Accompaniments
Product ID: ST4 H419
By Richard Allain

Publisher:
Stainer & Bell Ltd.
Line Up:
Violin & Piano
Level: 3

Set of parts

This item is in stock
About this item
This collection of piano accompaniments, of easy to intermediate difficulty, will add variety to individual or group tuition using Mackay's classic work and provide attractive material for short yet effective recital items. The piano parts are fully compatible with the parent volume, which contains the original violin melodies published separately, and from which violinists may choose to perform the pieces either solo or accompanied.
Reviews and rating
No review available, be the first to write one!


---
Composer


Richard Allain (1965-)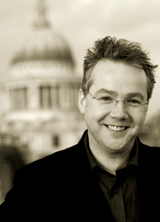 Born: 1965 Richard Allain is one of the most creative musical voices of his generation. His works encompass a wide range of styles including music theatre, sacred choral music and works for children. Allain has worked with many of the country's leading choirs and musicians; his music is regularly performed within the UK, and in countries throughout the world. Salve Regina was broadcast by the BBC Symphony Chorus in 2000 and later made its Proms debut with the National Youth Choir, to whom he was appointed composer in association in 2003. This alliance brought about a new work, Improperia for double choir, which was written for the NYC's world tour that year. Richard has also worked extensively with the award-winning chamber choir Laudibus. Their relationship of several years has produced work rich in diverse creativity, including the poly-choral Ubi Es? and the ecstatic Love and Sleep for 16 solo voices. The St. Matthew Passion was commissioned by St.Mary's Episcopal Cathedral, Edinburgh in 2002. The same choir later recorded the Magnificat and Nunc Dimittis for the CD Ascension. Allain has written many works for children. A Christmas Carol, a setting of Dickens' classic tale, was written for Richard Stilgoe (narrator) and the Bingham String Quartet; a CD recording followed in 1999. Together with his brother Thomas, Allain has written several cantatas for young voices. Jake and the Right Genie was commissioned by the Surrey Millennium Youth Festival, and it has since been performed by over 3,000 school children. Other works include the music theatre piece Salomé, after the play by Oscar Wilde.
More info about the composer...