Death of Ase & Anitra's Dance
Product ID: GM2 CL065
By Edvard Grieg

Publisher:
Goodmusic
Series:
Concert Classics
Genre:
Romantic Era
Line Up:
String Orchestra
Duration:
7:00
Level: 3

Set & Score

This item is in stock
About this item
The two middle movements are for strings only (with a triangle in Anitra's Dance) and may be performed alone or as part of the whole Suite.
This can be combined with GMCL021 (Morning) and GMCL040 (In the Hall of the Mountain King) to make up the entire Peer Gynt Suite No.1.
Instrumentation
Strings (Violin 1, Violin 2, Viola, Cello, Bass) Triangle
Reviews and rating
No review available, be the first to write one!


---
Composer


Edvard Grieg (1843-1907)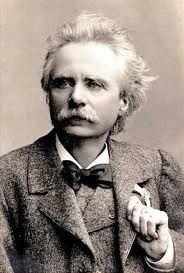 Edvard Hagerup Grieg (15 June 1843 – 4 September 1907) was a Norwegian composer and pianist. He is best known for his Piano Concerto in A minor, for his incidental music to Henrik Ibsen's play Peer Gynt (which includes Morning Mood and In the Hall of the Mountain King), and for his collection of piano miniatures Lyric Pieces. Edvard Hagerup Grieg was born in Bergen, Norway on 15 June 1843. His parents were Alexander Grieg (1806–1875), a merchant and vice consul in Bergen, and Gesine Judithe Hagerup (1814–1875), a music teacher and daughter of Edvard Hagerup.[2][3] The family name, originally spelled Greig, has Scottish origins. After the Battle of Culloden in 1746, however, Grieg's great-grandfather traveled widely, settling in Norway about 1770, and establishing business interests in Bergen. Grieg is renowned as a nationalist composer, drawing inspiration from Norwegian folk music. Early works include a symphony (which he later suppressed) and a piano sonata. He also wrote three sonatas for violin and piano and a cello sonata
More info about the composer...