Symphony No. 5, 3rd Movement
Product ID: HE1 FP47624
By Ludwig Van Beethoven

Publisher:
Highland Etling
Arranger:
Richard Meyer
Series:
The Highland First Philharmonic Series
Genre:
Classical
Line Up:
Symphony Orchestra
Duration:
4:20
Level: 2,5

Set & Score

This item is in stock
About this item
Haunting, ominous, and playful, this Scherzo movement from Beethoven's famous Symphony No. 5, arranged by Richard Meyer, has it all. Your students will love the stirring harmonies and driving rhythms while the colorful orchestration---faithful to the original---keeps brass, woodwinds, strings, and percussion involved throughout. A great chance for your orchestra to experience an important and glorious moment in symphonic history!
Songlist
(1)
Menuetto
Instrumentation
1x Conductor score
1x Flute
1x Oboe
1x Clarinet Bb 1
1x Clarinet Bb 2
1x Bass Clarinet Bb
1x Alto Sax Eb
1x Bassoon
1x Horn F
1x Trumpet 1 Bb
1x Trumpet 2 Bb
1x Trombone
1x Tuba
1x Mallet Percussion
3x Percussion
1x Timpani
5x Violin 1
5x Violin 2
3x Violin 3 (Viola TC)
3x Viola
3x Violoncello
3x String Bass
1x Piano Accompaniment ad lib.
Reviews and rating
No review available, be the first to write one!


---
Composer


Ludwig Van Beethoven (1770-1827)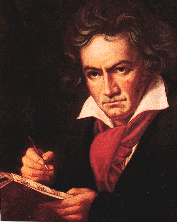 Ludwig van Beethoven (baptized 17 December 1770 – 26 March 1827) was a German composer and pianist. The crucial figure in the transition between the Classical and Romantic eras in Western art music, he remains one of the most famous and influential composers of all time. Born in Bonn, then the capital of the Electorate of Cologne and part of the Holy Roman Empire, Beethoven moved to Vienna in his early 20s, studying with Joseph Haydn and quickly gaining a reputation as a virtuoso pianist. His hearing began to deteriorate in the late 1790s, yet he continued to compose, conduct, and perform, even after becoming completely deaf.
More info about the composer...