The Theory of Everything
Product ID: HL2 04491561
By Jan Johansson

Publisher:
Hal Leonard
Arranger:
1x CONDUCTOR SCORE (FULL SCORE) -16 pages 1x PIANO -4 pages (fro rehearsal only) 8x VIOLIN 1 -2 pages 8x VIOLIN 2 -2 pages 4x VIOLIN 3 (VIOLA TREBLE CLEF) -2 pages 4x VIOLA -2 pages 4x CELLO -2 pages 4x BASS -2 pages
Series:
Pop Specials for Strings
Genre:
Film
Line Up:
String Orchestra
Duration:
4:30
Level: 3-4

Set & Score

This item is in stock
About this item
The acclaimed movie The Theory of Everything is a poignant look at the life of renowned scientist Stephen Hawking. The accompanying award-winning soundtrack by Johann Johannsson beautifully sets the tone and mood for the film. Here is a marvelous string ensemble adaptation for the concert stage.
Instrumentation
1x CONDUCTOR SCORE (FULL SCORE) -16 pages
1x PIANO -4 pages (fro rehearsal only)
8x VIOLIN 1 -2 pages

8x VIOLIN 2 -2 pages

4x VIOLIN 3 (VIOLA TREBLE CLEF) -2 pages

4x VIOLA -2 pages

4x CELLO -2 pages
4x BASS -2 pages
Reviews and rating
No review available, be the first to write one!

---
Composer


Jan Johansson (1931-1968)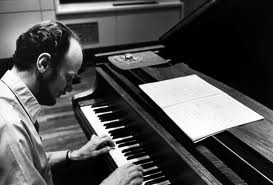 Jan Johansson (16 September 1931 – 9 November 1968) was a Swedish jazz pianist. He is little known outside Scandinavia, and his records are not widely available, though Jazz på svenska (Jazz in Swedish) has sold more than a quarter of a million copies, and is the best selling jazz release ever in Sweden.
More info about the composer...