44 duos
Product ID: UE4 10425b
By Béla Bártok

Publisher:
Universal Edition
Arranger:
two violins in score
Genre:
20th ceentury, Hungarian
Line Up:
Violin Duo

Part

This item is in stock
About this item
Volume 2 of the 44 duos contains 19
medium-heavy songs and dances of Eastern European folk music for two
violins (Pieces 26-44). Apart from two exceptions mentioned in the
relevant passages, the pieces are always based on a peasant melody.
They are arranged according to the level of difficulty, so that the
player can follow his progress better, and well suited for concerts.
It is advisable to present a selection of the pieces in a group or in
several groups "attaca" during the concert lecture. The
edition contains suggestions for such groupings.

  
Songlist
(20)
1. Teasing Song
2. Limping Dance
3. Sorrow
4. New Year's Greeting (2)
5. New Year's Greeting (3)
6. New Year's Greeting (4)
7. Dance from Maramaros
8. Harvest Song
9. Enumerating Song
10. Ruthenian Kolomeika
11. Bagpipes
12. Variant of No. 36 (Bagpipes)
13. Prelude and Canon
14. Rumanian Whirling Dance
15. Serbian Dance
16. Walachian Dance
17. Scherzo
18. Arabian Song
19. Pizzicato
20. Transylvanian Dance
Instrumentation
two violins in performing score
Reviews and rating
No review available, be the first to write one!

---
Composer


Béla Bártok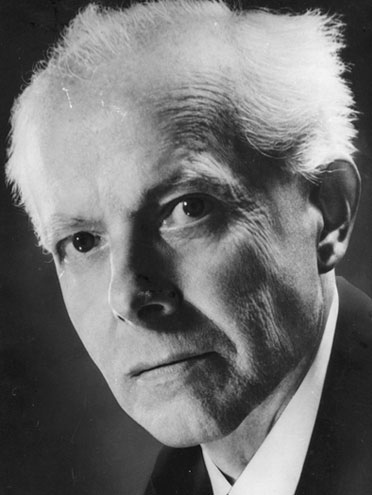 Béla Viktor János Bartók (March 25, 1881 September 26, 1945) was a Hungarian composer and pianist. He is considered one of the most important composers of the 20th century and is regarded, along with Liszt, as Hungary's greatest composer (Gillies 2001). Through his collection and analytical study of folk music, he was one of the founders of ethnomusicology.
More info about the composer...