1st. Movement from symphony no. 8
Buy this item (out of stock)
Product ID: GM1 CL092
By Antonin Dvorák

Publisher:
Goodmusic
Arranger:
Ling
Series:
Concert Classics
Genre:
Romantic Era
Line Up:
Symphony Orchestra
Duration:
11:00
Level: 3

Set & Score

This item is out of stock
About this item
This is an arrangement of the first movement of Dvorak's exciting eighth symphony. Some of the difficulties of the original have here been simplified to make it more accessible for the school or amateur orchestra. Parts are provided for clarinets in A and Bb.
Instrumentation
Piccolo, 2 Flutes, 2 Oboes, 2 Clarinets in A or Bb, 2 Bassoons 4 Horns in F, 2 Trumpets in Bb, 3 Trombones, Tuba, Timpani Strings (Violin 1, Violin 2, Viola, Cello, Bass)
Reviews and rating
No review available, be the first to write one!

---
Composer


Antonin Dvorák (1841-1904)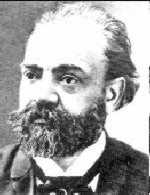 Antonín Leopold Dvořák (September 8, 1841 – May 1, 1904) was a Czech composer of late Romantic music, who employed the idioms of the folk music of Moravia and his native Bohemia. Dvořák's own style is sometimes called "romantic-classicist synthesis". His works include symphonic, choral and chamber music, concerti, operas and many of other orchestral and vocal-instrumental pieces. His best-known works include his New World Symphony, the Slavonic Dances, "American" String Quartet, the opera Rusalka, Cello Concerto in B minor and choral works Stabat Mater, Requiem, Op. 89 and Te Deum.
More info about the composer...